Homepage > Shop > Necklaces > Chain necklaces >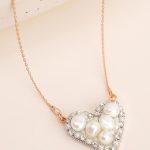 -15%
Not available
Design necklace – chain with pendant HEART
€68.00 €57.80 (VAT incl.)
Material: Sterling silver (925) with 18k rose gold plating
Product isn't available
Leave your email and we will send you a message when the product is available.
Customer-recognised service excellence
High quality materials
Fast delivery in 1-2 working days
Outstanding service
How to order as a gift?
Info
EXPRESS YOUR ORIGINALITY
This necklace is a great way to express your personality and stand out with an original style. The heart shape is a symbolic element associated with love, heart feeling and emotional saturation. The necklace is designed to make you feel comfortable with it both everyday and on holidays. The necklace can be complemented with other jewelry (see below) to build a kit.
NECKLACE WILL BE MADE WITHIN 3 WORKING DAYS. The placement and shape of the pearls may differ from the image.
⭐NECKLACE WILL BE A BEAUTIFUL GIFT
MATERIAL: silver 925. FINISH: 18k rose gold or platinum coating. STONES: natural pearls. LENGTH: adjustable. PENDANT SIZE: 2.5x2.5cm
Reviews
No reviews yet
You might like
-
Not available
Gift card
€200.00
-
Not available
Gift card
€150.00