Homepage > Shop >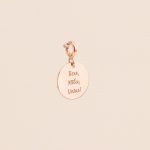 Not available
Words of power charm – "TICU MĪLU, VARU"
€25.00 €25.00 (VAT incl.)
Material: Sterling silver (925) with 18k rose gold plating
Product isn't available
Leave your email and we will send you a message when the product is available.
EXPRESS US DELIVERY: 7 DAYS OR LESS
Outstanding service
High quality materials
Customer-recognised service excellence
How to order as a gift?
Info
WORDS OF POWER COLLECTION
We have prepared a beautiful continuation of jewelry "I believe, I love, I can!" in English! Let these words of power go into the world!
Let these words of power remind you every day that
Everything starts with faith - I BELIEVE!
It is done with love - I LOVE!
When believing and loving you start doing - I CAN!
Make your jewelry special! You can add the charm to bracelets and necklaces.
MATERIAL: sterling silver 925. FINISH: 18k rose gold or platinum plating. PENDANT SIZE: 10mm.
Reviews
No reviews yet
You might like